Day One | A simple Journal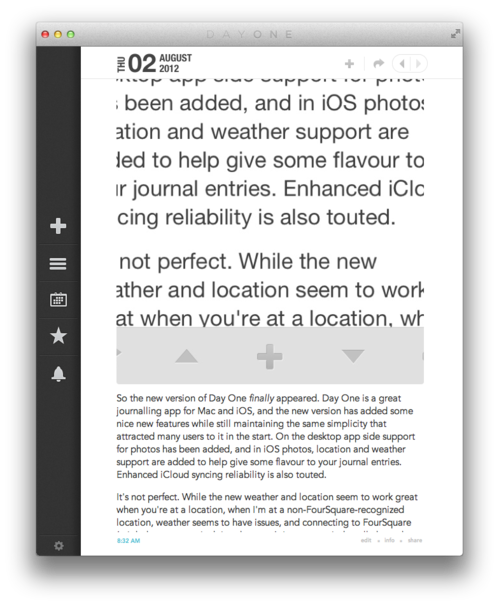 So the new version of Day One, 1.8, has appeared. Day One is a great journalling app for Mac and iOS, and the new version has added some nice new features while still maintaining the same simplicity that attracted many users to it in the start. On the desktop app side support for photos has been added, and in iOS photos, location and weather support are added to help give some flavour to your journal entries. Enhanced iCloud syncing reliability is also touted.
It's not perfect. While the new weather and location seem to work great when you're at a location, when I'm at a non-FourSquare-recognized location, weather seems to have issues, and connecting to FourSquare (might be everyone is doing the same). Im not worried at all about these things though, as they don't seem like that big a deal and easily fixed in a point release.
You can pick up Day One for the desktop or a universal app for iOS.
Posted by Arcterex at August 02, 2012 10:05 AM