PENTAX Announces New Point and Shoot: MX-1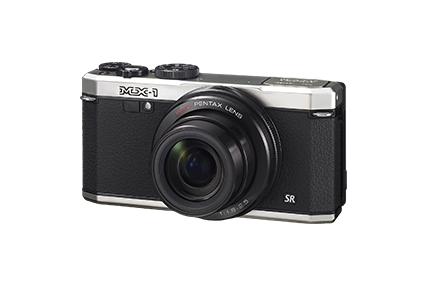 This morning Pentax announced the Pentax MX-1, in both silver and black. Here's the exerpt from the announcement:
Classically Crafted, Contemporary Quality

With its genuine brass covers and advanced digital compact capabilities, the PENTAX MX-1 is where craft design meets contemporary quality. The MX-1's fast F1.8-2.5 lens, 4X zoom and large 12 megapixel backlit CMOS sensor allow for bright everyday imagery inside a stylish body. As its brass wears with time, feel the good old days come back to life in your images of today with the PENTAX MX-1.
Some of the highlights of the body are:
1/1.7" 12mp sensor
F/1.8-2.5 aperture lens
1080p @ 30fps video mode
28-112mm 35mm equivelant (4x optical zoom, with digital (ugh) of 1.95x to make 7.8x zoom effective)
3" tiltable LCD
Face and pet face detection
SD/SDHC/SDXC, with 75mb of internal memory, also Eye-Fi compatible
Weighs only 12.8 oz (without battery)
Sensor shift optical image stabilization
I really wish that they'd taken a bit more of a cue from the Fuji X-100 in terms of the sensor, but the modern styling does look beautiful (if the pictures do anything). Also it'll be interesting to see how the sensor stacks up in terms of low light. Anyone from Pentax out there want to send me a review unit? :)
Posted by Arcterex at January 07, 2013 10:35 AM