Free eBook From Craft & Vision: Craft & Vision 2
Saw today that my favorite site for Photography eBooks has a new free eBook, Craft & Vision 2 available.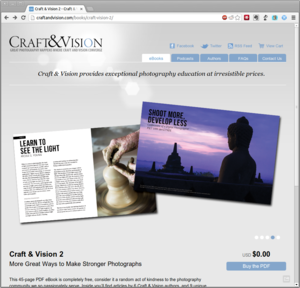 Free is free, and C&V has high quality stuff, so run, don't walk, to your computer to download this now.
Note: There seems to be some sort of wonkiness going with the checkout system right now so it might not be available for download right away. Yea, looks like we killed it.

Posted by Arcterex at April 08, 2013 09:28 AM