February 23, 2016
The Setup Wizard - IT Guy At Hogwarts
The Setup Wizard is the blog of the IT guy hired to set up wifi at Hogwarts in the Harry Potter universe. Pretty hilarious stuff. Make sure you check out the extract of a few choice bits, or just hit the link and read the whole thing.
Posted by Arcterex at
12:25 PM
February 10, 2016
HTop 2.0 Released
After a couple of years of silence, the excellent htop (an interactive process viewer for Unix) has released version 2.0!
Most notably the big change is the addition of the graph type, in addition to bar graph. Here's an example running on the current UFies.org server: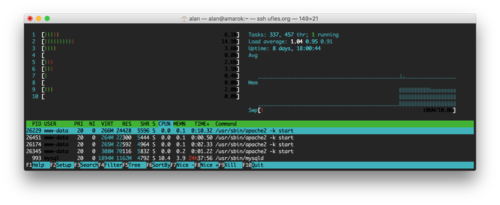 Note that to get the new graph types you go into setup (S) and then hit 'space' on the graph that you're configuring.
Posted by Arcterex at
11:28 PM
February 04, 2016
DOOM - Campaign Trailer
So a new DOOM - Campaign Trailer was released today. I am so excited about this game…. Having played from the original old school doom it's amazing to see how far the franchise has come!
Posted by Arcterex at
11:33 AM